| | |
| --- | --- |
| | This article is about a/an actor and voice actor in the Super Sentai series. |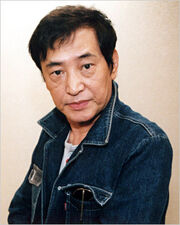 Hiroshi Miyauchi (宮内 洋, Miyauchi Hiroshi?, born June 14, 1947) is a prolific Japanese actor who played Akira Shinmei (Aorenger) in Himitsu Sentai Gorenger. He later played Sokichi Banba (Big One) in J.A.K.Q. Dengekitai and Chief Counselor Naoyuki Miura in Chouriki Sentai Ohranger.
He voiced Aorenger in Gokaiger Goseiger Super Sentai 199 Hero Great Battle and reprised his role as Sokichi Banba in Hyakujuu Sentai Gaoranger vs. Super Sentai and in Gokaiger Goseiger Super Sentai 199 Hero Great Battle.
In tokusatsu, he also played Ken Hayakawa/Zubat in the 1977 series, Kaiketsu Zubat. He sung the the opening theme of Kamen Rider V3 and an insert theme of Kaiketsu Zubat. He voiced Zubat in OOO, Den-O, All Riders: Let's Go Kamen Riders

.
He also played Shiro Kazami/Kamen Rider V3

in Kamen Rider V3

and reprised the role in Kamen Rider X

, Kamen Rider Stronger

, Kamen Rider (Skyrider)

and voiced V3 in OOO, Den-O, All Riders: Let's Go Kamen Riders

. He also played in Toei's Spider-Man

in episodes 31 and 39 as Go Tachibana. He also played Space Sheriff Alan

in Uchuu Keiji Gavan

. In 2005, he played the reboot version of Tobei Tachibana

in Kamen Rider The First

.
During an interview with the Tokusatsu Network, Hiroshi said that the secret to Super Sentai's longevity as a franchise is that its messages about justice, teamwork, and people coming together to stand up and fight for what is right resonates with and is passed down to multiple generations. He also was somewhat aware of Power Rangers and said that its continued existence is an extension of that message.
He stated when he first came to Hawaii and heard the native Hawaiians sing the opening theme to Kamen Rider V3

at a stage show, he was moved to tears. Hiroshi also said he is always very grateful and humbled to have fans who love him as a hero and role model from all over the world, though he regrets he does not speak or understand enough English to communicate better with English speaking fans. [1]
References
Edit
External links
Edit
Community content is available under
CC-BY-SA
unless otherwise noted.