| | |
| --- | --- |
| | This article is about a/an series entry (the 32nd) in the Super Sentai series. |
Engine Sentai Go-Onger (炎神戦隊ゴーオンジャー, Enjin Sentai Gōonjā?, translated as Engine Squadron Thunderous Sound Ranger) is the thirty-second entry of the Super Sentai series.
It premiered on February 17, 2008, a week following the finale of Juken Sentai Gekiranger, and ended on February 8, 2009. It aired as part of TV Asahi's 2008 Super Hero Time block alongside Kamen Rider Kiva

. Its footage was used for the American series Power Rangers RPM and was dubbed into Korean as Power Rangers Engine Force.
The catchphrase for the series is "Rushing by at full-throttle mach speed, our slogan is 'go on!'" (マッハ全開で突っ走る俺たちの合言葉は"ゴーオン!", Mahha zenkai de tsuppashiru oretachi no aikotoba wa "Gō On!"?).[1]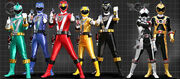 Machine World is one of the 11 Braneworlds other than our own, which is referred as the Human World, and it is home to giant vehicular beings called Engines who wage a war against the Gaiark who desire to pollute their world. Losing, Gaiark's three Pollution Ministers' escape leaves them on Earth, seeing the Human World as an easier location to create their ideal paradise. The six Engines manage to pursue them, selecting five humans to become their partners, the Go-Ongers. The team are joined by Go-On Wings and their Wing Engines, as well as the Ancient Engines, as they all together battle the Gaiark as well as other evil villains from other Braneworlds.
Characters
Edit
Go-Ongers
Edit
Go-On Wings
Edit
Other Allies
Edit
Kamen Riders
Edit
Transformation Devices
Edit
Multi-Use Devices
Edit
Individual Weapons and Team Blasters
Edit
Engine System
Edit
Characters:Engines
Legend:◆ piloted mecha, ● partner-piloted mecha, ◇ unpiloted mecha
The episodes this season are referred as "GP", which is short for "Grand Prix" (グランプリ, Guran Puri?) akin to the name of every major race on the Formula 1 circuit. The titles are all made of two Japanese words that are linked, either with two words combined by the Japanese connector character "no" or by a subject word that is modified by the previous word. However, unlike other seasons which use a similar title structure (such as Gingaman or Boukenger), the first word is always written in Hiragana or Kanji, while the second word, alongside the "no" when used, is always written in Katakana.
Movies
Engine Sentai Go-Onger: Boom Boom! Bang Bang! GekijoBang!! (

炎神戦隊ゴーオンジャー BUNBUN! BANBAN! 劇場BANG!!

Enjin Sentai Gōonjā Bunbun! Banban! Gekijōban!!

?

)
Engine Sentai Go-Onger vs. Gekiranger (

炎神戦隊ゴーオンジャーVSゲキレンジャー

Enjin Sentai Gōonjā tai Gekirenjā

?

)
Samurai Sentai Shinkenger vs. Go-Onger: GinmakuBang!! (

侍戦隊シンケンジャーVSゴーオンジャー銀幕BANG!!

Samurai Sentai Shinkenjā Bui Esu Gōonjā Ginmakuban

?

)
Specials
It's a Seminar! Everyone GO-ON!! (

セミナールだよ!全員GO-ON!!

Semināru da yo! Zen'in Gō On!!

?

)
Voice actors
Edit
Suit actors
Edit
Opening theme
Ending theme
Insert theme
Go-Onger is very similar to Choujuu Sentai Liveman; particularly with the first three Rangers being Red, Blue, and Yellow and the two that join the team being Green and Black respectively.

It should be noted that there is a bird-themed Red in both teams.
Both teams use some mechs which are a mix of animal & vehicle motifs.

The Engines in Soul form were designed by Toei Animation.
"Enjin" (

炎神

?

) literally translates as "Flame God." The logo for the series uses the English word "Engine" in the title instead of the romanization of the kanji as "Enjin."
"Go-Onger" (

ゴーオンジャー

Gōonjā

?

) is a portmanteau of the Japanese words for "thunderous sound" (

轟音

gōon

?

) and "Ranger" (

レンジャー

Renjā

?

). It is also related to the English words "go on."
"Bikkuri" (

びっくり

?

) means "surprise," making Bikkurium the "element of surprise".
All members role call uses the word 'Kai' (in japanese) at the last syllable.
This is the 1st season where the name of the show starts with Go-. The second one is Tokumei Sentai Go-Busters.
This is the first Sentai Season with two 6th Rangers, the first Sentai team to officially feature a female 6th ranger.
This is the first car-themed Sentai that has an official Sixth and Seventh Ranger: The Go-On Wings team.
If you put each syllable of the rangers, you get ekorogisuto, which is ecologist.
References
Edit
Official websites
Edit
Community content is available under
CC-BY-SA
unless otherwise noted.